Image is illustrative

Mild Steel Wall-Mount Enclosure CB, 300Wx300Hx210D, mounting plate, gland plate (GP2), wall bracket, lock double-bit 5, IP66, MaxPro, RAL7035 grey

Price

€45.70

 /

pc

(€54.84 /pc with VAT)

Manufacturer :

Availability:

In Stock

Weight:

8.46 kg/pc

Volume:

0.0235 m3/pc
Mild Steel Wall-Mount Enclosure CB, 300Wx300Hx210D, mounting plate, gland plate (adapter GP2), wall bracket, lock double-bit 5, IP66, MaxPro, RAL7035 grey




Adjustable
mounting panel

Multi folded
protection

Molded door
protection

Powdered surface with textured stove enamel

Feature




Multi-folded periphery of the enclosure to avoid water and sundries entering into the inner enclosure;
Cold rolled steel welded frame with b structure;
All-round polyurethane gasket in the door with protection against moisture and dust;
Molded door border with exquisite image and b intensity;
Door can be opened from left or right;
Door can turned to 110 degrees with hinge, and 180 degrees with a special hinge;
Adjustable mounting panel;
M8 earth pole is mounted on the body, door and the mounting panel;
Mounting hole drilled at the back of the enclosure, no need extra holes.

Degree of protection




Comply with IEC60529, EN60529/10.91 and GB4208-93 standard;
External mechanical impact resistance IK10;
Small size enclosure with IP66 (width and height less than 400mm);
Width and height over 400mm enclosure with IP55.

Material




SPCC cold rolled steel;
Thickness: mounting panel: 2.5mm, others: 1.5mm.

Surface finish




Body of enclosure and doors:
Degreasing, phosphoric, electrophoretic dip-coated printed, static power with textured stove enamel RAL7035.
Mounting panel ( SPCC cold rolled steel). Degreasing, pickling, phosphoric, electrophoretic dip-coated printed, static powdered with flat coating RAL2000

Packing


Boxes are complete with:

Mounting plate;
Gland plate and sealing gasket;
Package with hardware for earth connection and screws to mount all components;
Locking system with 3mm double-bar key;
Screws for earth connection;
Fixing material.

Use




Available for mounting various kinds of electronical components, controlling and cable entry.
Article
Description
W
H
D
Body
Door
MP
CB.1032.910
CB.1035.910
ST3315
CB.1033.910
CB.1034.910
CB.1030.910
CB.1031.910
CB.1380.910
CB.1038.910
CB.1338.910
CB.1045.910
CB.1046.910
CB.1050.910
CB.1350.910
CB.1056.910
CB.1057.910
CB.1039.910
CB.1339.910
CB.1060.910
CB.1360.910
CB.1067.910
CB.1076.910
CB.1376.910
CB.1058.910
CB.1368.910
CB.1090.910
BG11650001
CB.1260.910
CB.1077.910
CB.1180.910
BG11650002
BG11650003
STD101030
STD101230
STD121230
STD121430
Box CB 200*300*120 IP66
Box CB 200*300*155 IP66
Box ST 300*300*150 IP66
Box CB 300*300*210 IP66
Box CB 300*400*210 IP66
Box CB 380*300*155 IP66
Box CB 380*300*210 IP66
Box CB 380*380*210 IP66
Box CB 380*600*210 IP55
Box CB 380*600*350 IP55
Box CB 400*500*210 IP55
Box CB 450*640*210 IP55
Box CB 500*500*210 IP55
Box CB 500*500*300 IP55
Box CB 500*600*210 IP55
Box CB 500*700*250 IP55
Box CB 600*380*210 IP55
Box CB 600*380*350 IP55
Box CB 600*600*210 IP55
Box CB 600*600*350 IP55
Box CB 600*640*210 IP55
Box CB 600*760*210 IP55
Box CB 600*760*350 IP55
Box CB 600*800*250 IP55
Box CB 600*800*350 IP55
Box CB 600*1000*250 IP55
Box CB 600*1200*250 IP55
Box CB 600*1200*300 IP55
Box CB 760*760*210 IP55
Box CB 800*1000*300 IP55
Box CB 800*1200*300 IP55
Box CB 800*1400*300 IP55
Box STD 1000*1000*300 IP55
Box STD 1000*1200*300 IP55
Box STD 1200*1200*300 IP55
Box STD 1200*1400*300 IP55
200
200
300
300
300
380
380
380
380
380
400
450
500
500
500
500
600
600
600
600
600
600
600
600
600
600
600
600
760
800
800
800
1000
1000
1200
1200
300
300
300
300
400
300
300
380
600
600
500
640
500
500
600
700
380
380
600
600
640
760
760
800
800
1000
1200
1200
760
1000
1200
1400
1000
1200
1200
1400
120
155
150
210
210
155
210
210
210
350
210
210
210
300
210
250
210
350
210
350
210
210
350
250
350
250
250
300
210
300
300
300
300
300
300
300
1,5
1,5
1,5
1,5
1,5
1,5
1,5
1,5
1,5
1,5
1,5
1,5
1,5
1,5
1,5
1,5
1,5
1,5
1,5
1,5
1,5
1,5
1,5
1,5
1,5
1,5
1,5
1,5
1,5
1,5
1,5
1,5
1,5
1,5
1,5
1,5
1,5
1,5
1,5
1,5
1,5
1,5
1,5
1,5
1,5
1,5
1,5
1,5
1,5
1,5
1,5
1,5
1,5
1,5
1,5
1,5
1,5
1,5
1,5
1,5
1,5
1,5
1,5
1,5
1,5
1,5
1,5
1,5
1,5
1,5
1,5
1,5
2,5
2,5
2,5
2,5
2,5
2,5
2,5
2,5
2,5
2,5
2,5
2,5
2,5
2,5
2,5
2,5
2,5
2,5
2,5
2,5
2,5
2,5
2,5
2,5
2,5
2,5
2,5
2,5
2,5
2,5
2,5
2,5
2,5
2,5
2,5
2,5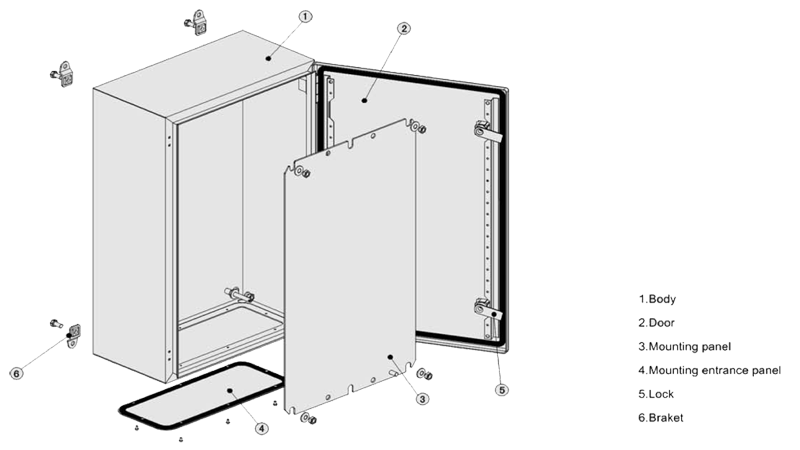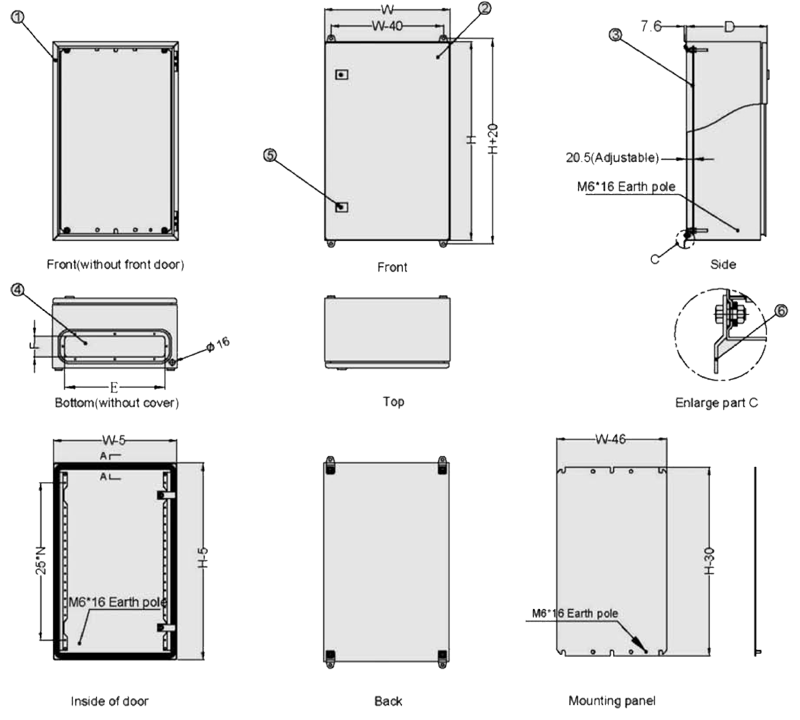 Related products

Gland Plate GP2, cutout FL13, for multigate MB/HTB, grey
Key Double-Bit 5, CB/CC, MaxPro
LED Panel Light 7L, 9W 110..240VAC/DC 600lm 5000°K, on/off switch, push-in connection, -30..50°C, plastic, W46xH47.5xL310.6mm, magnetic ^clip fixing, Finder
LED Panel Light 7L, 9W 12..48VAC/DC 600lm 5000°K, on/off switch, push-in connection, -30..50°C, plastic, W46xH47.5xL310.6mm, magnetic ^clip fixing, Finder
Limit Switch, ss plunger, 1NO ^1NC 5A 250VAC/ 30VDC, -10..70°C, thermoplastic ^ss, M20, IP65
€3.00

 /pc

€1.60

 /pc

€51.30

 /pc

€51.30

 /pc

€10.50

 /pc

 
Limit Switch, ss roller head adj. lever, 1NO ^1NC 5A 250VAC/ 30VDC, -10..70°C, thermoplastic ^ss, M20, IP65
Limit Switch, ss roller head plunger, 1NO ^1NC 5A 250VAC/ 30VDC, -10..70°C, thermoplastic ^ss, M20, IP65
Lock M22P/W, ø22.5mm, retancular housing, key code 1333, for CB enclosures, MaxPro
Micro-Switch ECMC, incl. bracket, ETA
 
€10.50

 /pc

€10.50

 /pc

€6.00

 /pc

€17.40

 /pck